Guiding Through Motherhood
Words & Images: Will Freihofer
It was a brisk spring night in the Sonoran Desert.
It was the first time I heard Heidi Ault's voice break in front of guests. The group hovered over plates of Cochinata Pibil after a week of riding the red dirt roads that wind through the mountains surrounding the small city of Alamos east of the Sea of Cortez.
"It's always been a dream of mine to jump right back into doing the work I love most after having a kid, so this was special," she said, lap full with her 6-week-old daughter.
Her voice cracked ever so slightly as if broken by the gap between expectations and reality of motherhood for a professional bicycle guide.  
The truth is that operating The Cyclist's Menu, the small cycling touring company she runs with her husband, chef and guide Zander Ault, was not made easier by the addition of an eleven-pound baby girl with bad gas. After clearing her doctor's firm six-week recommended refrain from exercise after surgery, Heidi was able to get her first trail time since childbirth before the week-long camp. This would leave Zander tending to eleven-pound Burchie – and occasionally their year-old hundred pound golden retriever, Big Sky – until mom returned, which is challenging for any new mom to do.  
"I've always been curious about what it would be like to be a mother and run my own business.

I've

talked myself into it –

it's

going to work. Maybe I can't guide here and there, but I'm very driven to make it work." The company's schedule will take them to Helena, Montana, and Mendocino, California, before Italy and Slovenia in the coming months – and Burch will be along for the ride

.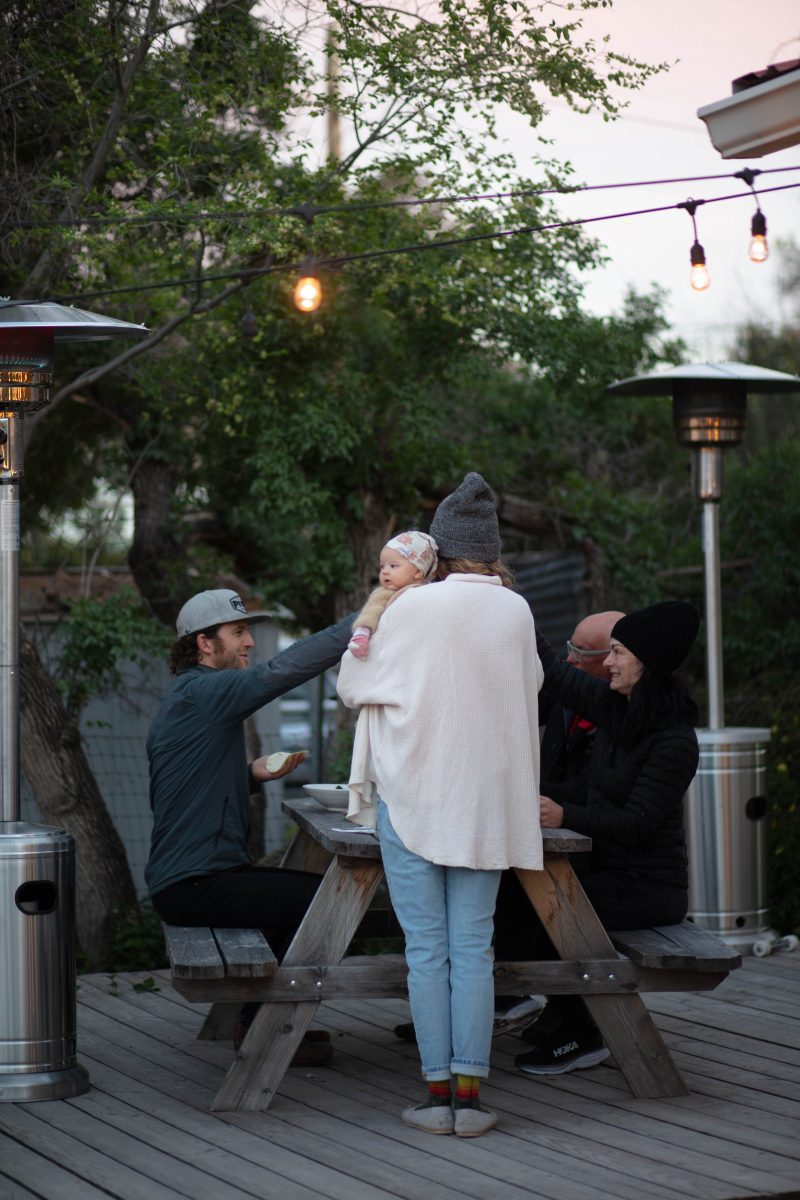 The Alamos camp found Heidi in uncharted waters.
A professional bike guide her entire adult life, one who has seen her fair share of difficulties, now stood with a baby on her hip, waving goodbye to the group as they rode off into the desert.   
The Cyclist's Menu's inaugural trip to Mexico went smoothly without Heidi on the road or Chef Z in the kitchen. Both were in unfamiliar waters, changing roles and shuffling the dog and child, but each day it was Mom wrangling the family and waiting for news of Dad's return from the Mexican backcountry. With some babysitting help she was grateful to be able to get back on her bike, touring the scenic streets of Alamos with fellow guides after camp, taking things slow in deference to the long recovery process, and re-acquaintance with her physical being.   
A month later, and eight hours drive north of their home in Patagonia, Arizona, Heidi was back in the saddle, figuratively and literally.
"I'm designing my life to be able to have a kid in tow" - and she was getting stronger by the week.
During the March and April Arizona gravel camps, she welcomed the guests at the Stage Stop Inn with a stroller. It wasn't easy, but with the help of Zander at home with baby Burchie, she was able to lead the shakeout ride that afternoon, thirteen miles up to her favorite place in the San Rafael Valley. However, this time at the "Boomshakalaka" – guide slang for the first view of Saddle Mountain – she found herself ducking into the support truck to pump while the crew took in the view. As the camp progressed, Heidi led the group out on longer days but would peel off at the first refueling stop to return to base to relieve her mother, sister, or babysitter, depending on the day.   
She resiliently remained the camp director,
always setting and explaining the routes but trusting her guides to make the right decisions on the road when she inevitably was pulled back by Burchie later in the day.   
The Aults have embraced the challenges of their new adventure.
They book camps, run their cafe / bar, and wrangle contractors for their ever-growing endeavors. Heidi takes phone calls while pushing a stroller around town, waving with a pinky to friends driving by. Throughout the spring gravel camp season, Burchie developed, smiling more and more in the camp photos, holding court in front of picnic tables of adoring fans.   
Heidi is in the camp photos, and not always with a baby on her shoulder. She's in bibs and a jersey, calmly churning a suspiciously large gear while everyone around her digs deep through the climb. Later in the album she's cheersing her favorite stout, then listening to stories around the table. They're together, working at the family business of cycling hospitality.   
In the three months since Burchie was born she has attended four cycling camps.
Her mom has turned 39 and still is able to do what she loves for work. In many very important ways things are going exactly to plan. 
WHAT MAKES A PIVOT A PIVOT?
Latest Articles