Fear and Progression – A Dynamic Duo
By: Kelsey Timpany
We have all been there.
That one feature that stops you dead in your tracks, that jump we always avoid or that ride around we always take. While it may feel as though most of the internet is conquering bigger and more daunting jumps, for many riders the struggle with fear is still very real. And although fear is uncannily natural and can be healthy, it can also be debilitating.
I am lucky to have access to world-class knowledge here in Queenstown –
in particular the insanely inspiring and talented women who are learning, competing, and pushing from beginner through to the world stage. The recent 'McGazza Fest' in honour of the late Kelly McGarry highlighted the level of womens' riding today and how quickly it is progressing. It was truly amazing to watch 'the girls' absolutely nail it – hitting jumps that are notoriously deemed male only and working through this stigma and fear like real (dirt!) Queens.
I've tracked five ladies with varying experience and biking backgrounds but show the process of overcoming fear is slightly different for everyone, yet the end goal is the same once conquered – euphoria!
Ellie Chew
From double back flipping the Nitro Circus mega ramp on her BMX, to sending Dream Track on her mountain bike, Ellie is bringing a whole new level of excitement to the mountain bike industry. @ellie_chew
Most terrifying event and why:
"Practice at the Vans BMX Pro Cup in Huntington Beach 2018 – I wanted to backflip the ramp to ramp box jump in the middle of the bowl. We only had a very short practice slot and lots of riders dropping in frantic to get their practice time too. I had never backflipped to concrete before, and I had to get it done before competition time if I wanted a chance at podium. I was scared to crash and not be able to ride the competition if it went wrong, but I was actually more scared of the disappointment I would have with myself if I didn't do it."
What do you define as scary? 
"For me, there are two types of scary. One being the un-enjoyable scary where you don't want to ride a feature or jump and it's just stupid so it's scary. The main type of scary that affects me is when you know you can do something, but there's a little voice in your head that doubts you, and the only way to break through that little voice telling you not to do something (like a new jump or trick) is to trust yourself, and that type of scary is the one that gives you the jitters."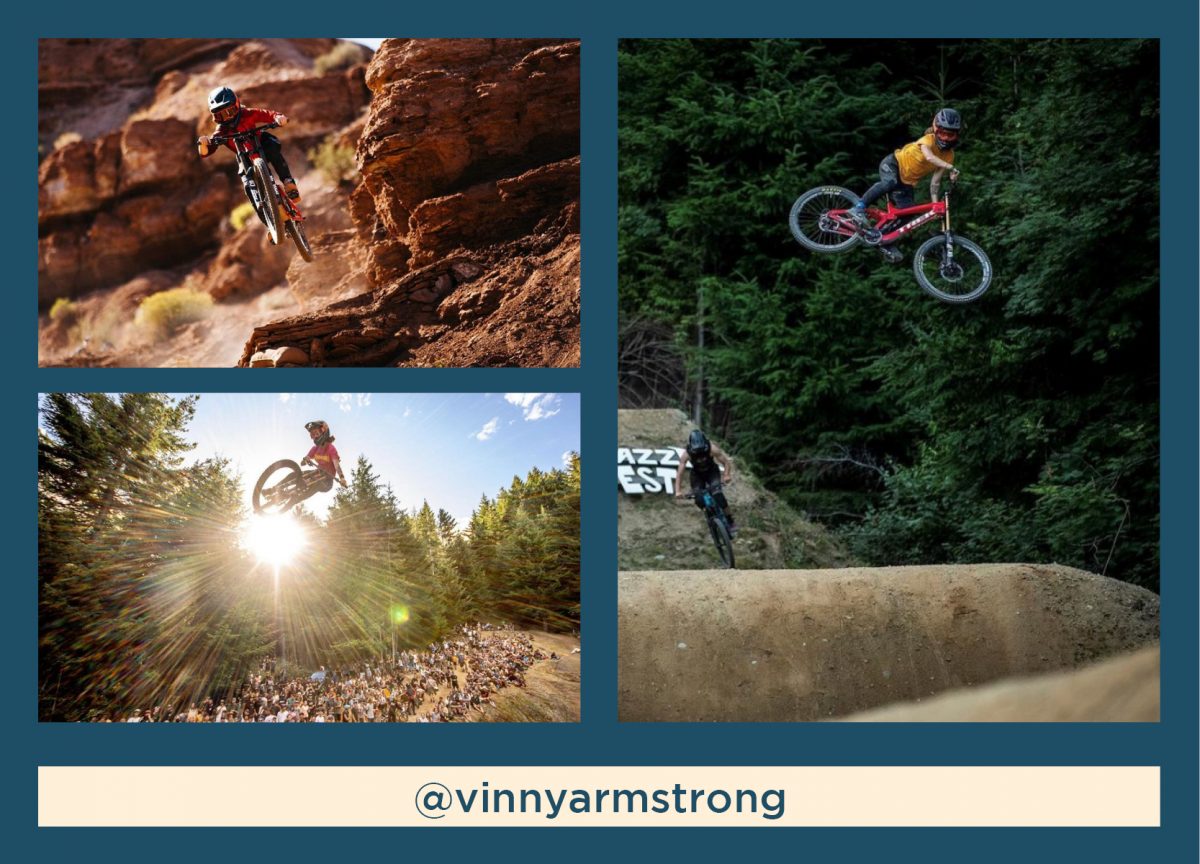 Vinny Armstrong
Known for larger than life whips and for crushing it in Utah at Redbull Formation. @vinnyarmstrong
What do you define as scary?:
"Spiders"
Most terrifying event and why?:
"Formation in Utah because it's so exposed and the risk factor is really high. Also riding an actual Rampage venue is pretty exciting and hectic."
How Vinny tackles fear:
"I take a deep breath and push out all the thoughts of fear and what might happen. I believe in myself that I do have the skill to be able to do whatever it is that I'm going to do."
What is the motivation?
"That feeling of reward after nailing something terrifying, knowing that I can do it and it isn't as scary as it looks."
Brooke Thompson
Bike Park Patrol Guru and world-wide sender – Brooke is renowned for her 'get it done' attitude. @bwookiie
Brooke's take on fear:
"Something dangerous or high risk that spikes my heart rate when you think about it. For me it's big jumps but it is also what I want to be good at. I want to experience the feeling of hitting massive jumps and being in the air for so long. Thinking about it scares the sh*t outta me. Mentally being scared of something is such a push and pull feeling. Knowing you want to try something but almost every bone in your body wanting to stop you. Calming those thoughts with logic and giving whatever scary task it might be a red hot go"
Brooke's thought process on tackling fear:
"I find it as a task that I have to get done. I literally just fake positive thoughts in my head. Because if I don't, I'll get too scared and have a full mental block. So if I've set out to tackle something so scary I just have to give it a go and trust my skill. This is also super interesting because I trust my friends so much and I know they won't make me try something that I don't have the skill for."
Kara Lee
Kara only swung a leg over a mountain bike less than 6 months ago and is progressing in impressive leaps and bounds. @karanicolelee
What has scared you the most on your mountain bike journey?
"The first time I accidentally went down a steep trail into a rock drop on my mountain bike. Luckily, fun and adrenaline kicked in!"
What do you define as scary?
"I think the underlying idea going through my head when I'm scared is that I'm going to get hurt, it's not even the pain that freaks me out but the thought of the recovery process after the fact. But being scared in general to me is most definitely a mental block for going out of your comfort zone."
What helps you overcome fear?
"Having a solid community around you that encourages you and is patient when progressing is so so huge. Queenstown most definitely has that, from day one not even knowing how to position yourself on a bike to going doyou will have a huge hype squad right there with you."
Linda Paluc
One of the most talented riders to come out of Slovenia, Linda now calls New Zealand home and is an incredible advocate for women in mountain biking. @linndsie
Scariest event you have ever partaken in?:
"Certainly hitting Crabapple in Whistler for the first time in 2016. There were only boys riding so I was literally pooping myself. They didn't give me much confidence with classic boy comments like "just don't break and you'll be fine". Just as I was about to drop in, Casey Brown rocked up and she led me in with loads of certainty and appropriate speed. God, I was the happiest, most euphoric person on the planet when I did it. I found them so easy and was knocking myself on the head for not doing it earlier, which is literally the case with every fear I have."
What does fear feel like to you?:
"My fears transpire physically. I can turn my mind off, not think about it at all, but it seems like the subconscious manifests itself in a few physical symptoms, like sweating and feeling like I'm about to poop myself."
Overall thoughts and feelings?:
"The feeling of overcoming something that scares me is EVERYTHING. Overall, I'm starting to learn how to love fear and use it to my advantage. It makes me feel SO alive if I come into it with the right mindset."
Kelsey Timpany – me!
I recently struggled with fear at the NZDH Nationals to the point where I could hardly pedal to the chairlift, let alone hurtle down a gnarly race track. What pulled me through in the end was how disappointed I would of been in myself if I had bailed and wanting to feel the satisfaction of completing my first National Champs. I visualized and tried to embody the high I would get at the finish line took a few deep breaths and dropped in. Talking to other racers they all said the same thing as soon as you are on track the fear instantly disappears!
Now, a few weeks on, I am so proud of what I was able to achieve and can't wait to build on that experience and ultimately put myself through it all again…..
In conclusion, if you're scared, you're exactly where you should be. It doesn't matter if you are racing National Champs or mustering the courage to ride a technical line – fear will always present itself in many forms. The above girls are some of the finest examples of how utlilizing this can be a powerful tool to get the job done and take your riding to incredible heights.
How do you control your fear when mountain biking? Please share below – I'm really curious to know how you use fear to your advantage!
Until next time!
WHAT MAKES A PIVOT A PIVOT?
Latest Articles