Bike-love
By: Kelsey Timpany
Welcome back for round two!
Coinciding with Valentines month, what better excuse to give this column the big ol' 'bike love' theme and maybe get a little sappy. Valentines day isn't widely celebrated in New Zealand, we tend to take more of an 'every day is love day' approach, so it takes me a bit to get gushy… To get into it I will quote Hugh Grant from his 2003 block buster hit, Love Actually – "Love really is all around" and when paired with all things 'mountain bike', I reckon that's pretty spot on.
Do you remember your first love?
Close your eyes and take yourself back – can you remember those butterfly moments, the giddy feeling and your stomach doing somersaults? No? Me neither. Does the thought of riding your bike down a sun kissed mountain ridge, schralping up the inside of a freshly built berm, fist bumps and high fives after nailing a feature bring on these warm fuzzies? Yes, me too!
Bike love,
in my opinion is a slow burning flame that sings unconditional love.
Your bike is your tool to opening a whole realm of opportunity, gratitude and appreciation and it will always be there for you. There's moments of utter bliss when you are climbing or descending and have thoughts of "There is no better feeling than this", "Shivers I'm glad I actually dragged my butt out", or for me lately – "I wish everyone could see and feel what I'm experiencing, right here, right now."
The best way to get to the bottom of this expansive theme is to break it down to my top three reasons why I love mountain biking.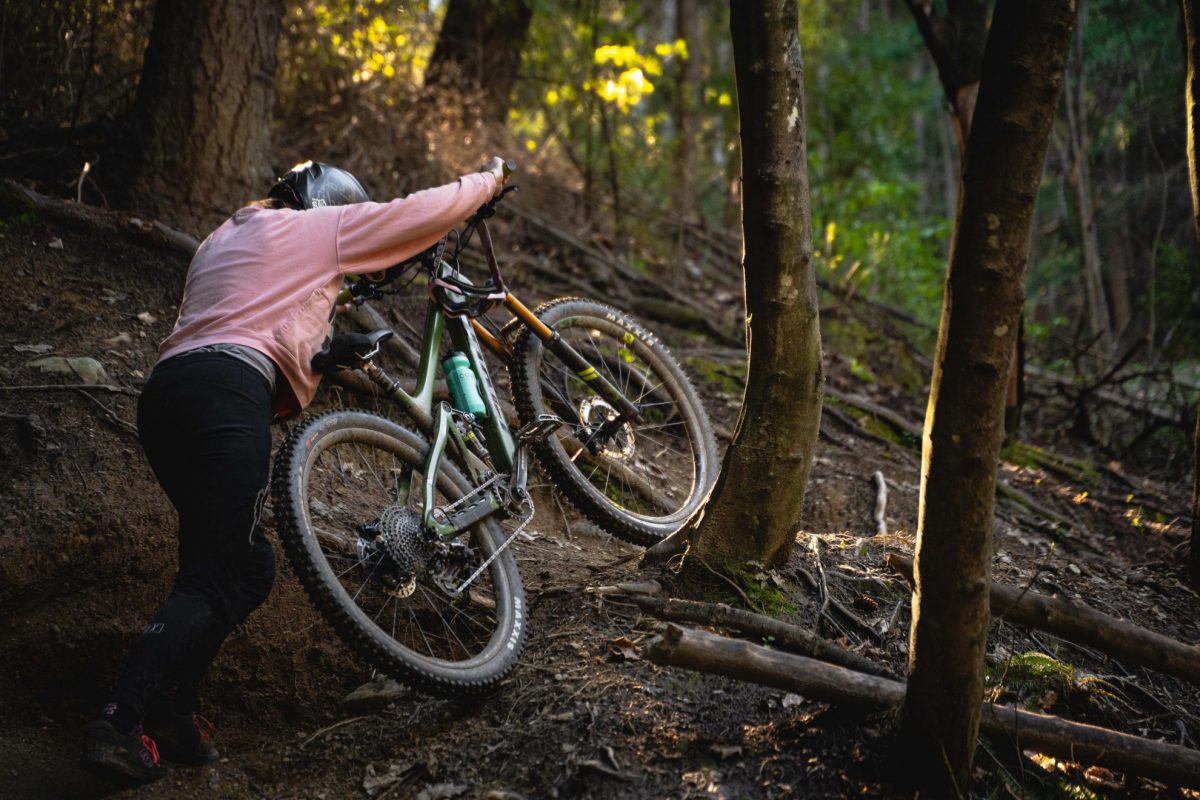 Connection and Community
The connections and people that come hand in hand with mountain biking are second to none. True salt-of-the-earth people are to be found within this special community and your bike is simply the tool-of-choice that connects us together. True inspiration and stoke can be shared over beverages and tall tales told of near misses, gnarly shoots, bad taping jobs at races, tricky features and more. Having the common ground of riding often breaks social barriers and brings different people together. Some of my best friendships are due to mountain biking – I am yet to find these types of friendships and support in other areas of life.
The community brings out the best in people, uniting us in many ways but mainly for our pure stoke and passion of riding.
Thrill and Adventure
The need for speed and intense experiences is something that lives in most mountain bikers and an element that keeps pulling us back for more. Every pedal stroke gives you the power and freedom that other activities, such as golf (no offence, just a great example) lack.
The mental and physical challenge of completing a huge ride in the red zone, feeling the good kind of muscle ache at night, or putting away a technical feature with confidence, speed and flow are a few of the components that can be achieved through mountain biking. The internal satisfaction you feel can put you in such a good head space, leaving you feeling on top of the world and itching for more.
Outlet for us to BE
We all need an outlet, something to do or somewhere to go when we have pent up energy, stress or the need for fun.
Or is it the escape? Getting out in nature, away from the bustle of everyday life and putting all your energy and focus into the trail in front of you. There is a magnitude of studies that highlight the therapeutic potential of extreme sports and outdoor activities – without getting too deep or scientific it is safe to conclude regular riding can positively impact your mental health. Natural endorphins to relax your mind and boost your mood, the encouragement of healthier habits, increased blood flow and oxygen to the brain to help creative thinking are just scratching the surface!
Unity and Confidence
When you unite a group of riders who share a love of biking,
you begin to create something so powerful it can start some serious movement! Case in point the Womens' movement in mountain biking that is building more and more momentum and I am so excited to be experiencing it at it's core! Key athletes are using their following and status to bring light to the gap between equality within the mountain bike community – whether it be more variety in womens' specific technical gear through to equal prize money or recognizing that women deserve a place in the mountain bike community. Seeing these ambassadors speak up from a place of love for the whole biking community is so inspiring and you can see it trickling down through every level, all the way to your local tracks. Truly spectacular!
The confidence I have been given from mountain biking
is one of the most invaluable assets, and it's not until I have sat down to write February's column have I truly realised the extent of it. Carrying over what I learn from the love of riding makes me compassionate, a better friend, worker and community person. Having the support of Pivot who see and share my vision and passion has amplified this, all because well, ….bikes! And as always, For The Love Of It.
Everyone has their own reasons for why they love mountain biking – if something from the above discussion resonates with you – then you yourself are a participator of 'Bike-Love'.
Photo Credits: Chris Dunn, Jake Hood & Linda Paluc
WHAT MAKES A PIVOT A PIVOT?
Latest Articles