From Seattle to the Summit:
Kialani Hines' Rise in the World of Mountain Biking
Kialani Hines has become a true inspiration to many in the mountain biking community.
Despite being relatively new to the Crankworx scene, Kialani quickly made her mark by beating out experienced riders who had been honing their skills for years. Her positive attitude and infectious smile have won over fans and fellow riders alike, and she has become a shining example of what is possible with hard work and determination.
As an ambassador for the sport, Kialani has shown that mountain biking can be a powerful tool for achieving your dreams, and a source of joy and fulfilment in life.
In a recent interview, Kialani spoke about her background, motivations, and inspirations, giving insight into what drives her passion for mountain biking. Her dedication and determination have earned her a growing fan base and respect within the mountain biking community. 
The Start
"I grew up in Seattle, WA. I was a BMX kid, it's basically how I learned how to ride a bike at 8 years old. BMX really consumed our lives," Kialani said. "My older brother and I raced throughout the USA and Canada for about 10 years before I decided to change things up at the age of 18 and start mountain biking." The Crankworx World Tour was Kialani's gateway to the mountain bike world and in 2017 she raced Pump Track in Whistler, qualifying 3rd – however she was disqualified for missing a pole. After having a taste of near victory, Hines was completely hooked and motivated to pursue it further. This led her to dedicate herself fully to the Crankworx World Tour in 2018, and the rest, as they say, is history.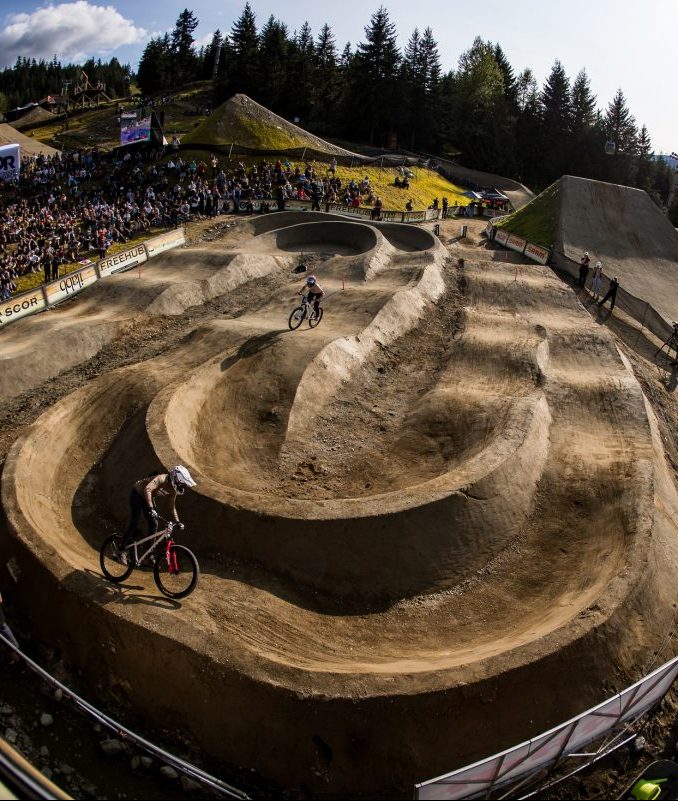 Kialani's BMX background has greatly influenced her as a mountain biker.
She looked up to many top women in the sport like Mariana Pajon, Shanaze Reade, Kim Hiyashi, and Brooke Crain. She said, "I felt lucky I was at an age to be inspired by a lot of the leading ladies in the sport that changed it for women. I never felt there were barriers for me and racing my bike, these women were out there with the men and truly DOING IT, so why couldn't I?"
Influence
Kialani's Mom was also a huge influence of her mentality on and off the track. Hine's describes her as a strong woman who has always taught her to stand up for herself and what is right. It's because of her mom, Hines attributes to why she stays true to herself and always follow's her gut to what makes her happy. "She's given me the confidence to pursue a lifestyle like this and anything I want to do!
Riding Style
When asked about her riding and racing style, Kialani said, "I think when I ride and race people often think that I am not trying, which is something I am trying to work on! Haha. I've always been someone who likes smooth and flowy style rather than rugged and loose. I like to feel in control, and I think that shows a lot in my riding style."  
If anyone has spent time watching Kialani elegantly navigate a pump track or dual slalom course, you will know that this statement rings true. "I like to feel 100% confident in everything I am doing. In BMX you train your whole life doing the same thing over and over, but the skill is perfecting it and gaining speed through your skill. I love mounting biking because it's given me more of a blended riding style now but I still love being fast and flow". 
Despite the excitement, travel and hype that comes with the lifestyle of a professional mountain biker,
it also comes with its own challenges and sacrifices. Kialani shared that injury, managing sponsors and finances, and traveling throughout the year can take a toll on you on and off the bike.
"I have been doing this for 5 years now and more recently I have been experiencing those feelings of 'burn out'," she said. "Don't get me wrong this lifestyle is a beautiful journey and I feel so lucky I get to call myself a full-time professional Mountain biker" but that's not to say it doesn't come with its own challenges and sacrifices. I manage all my sponsors, finances, and travel and to be honest it's not something that comes very easy to me. One of the biggest stresses being an athlete is wondering if you're doing enough and financial stability. It's something I have had to learn along the way and am still learning to this day!" 
However, it ultimately all links back to the fun and love of riding your bike. "I think it's obvious one of the coolest things about choosing this lifestyle is that you get to travel and see the world. The places you get to see, people you get to meet and being able to ride/race on top of it all is very special," she shared. 
Proving Grounds
Kialani also recently tried her hand at commentating during Proving Grounds, an event in California. She said, "Proving Grounds was an awesome experience for me. It was something unexpected when I was asked to do it, so I was extremely nervous about it honestly! Though after I went for it and decided it was a great opportunity to get out of my comfort zone, I had a blast. I would love to do more things like this in the future, for Crankworx, Proving grounds, free ride events. I see another avenue to go down I didn't see before the experience, so I am very grateful for it!" 
Looking Towards the Future
Looking towards the future, Kialani plans to start pushing herself and defining herself as a rider. She is excited to explore new avenues of riding and not just racing. As for the upcoming season, she plans to race the full Crankworx tour. "I am excited to race again, compete with the women I've grown with on this journey and continue to make my sponsors proud! I am also excited to see where my passion for riding and racing takes me in the next 2-3 years," she said. She is already off to great start, placing second at Pumptrack in Crankworx Rotorua. 
Kialani also adds,
"I just want to say a huge thank you to Pivot Cycles. In 2019 I first signed with Pivot and can say I have been with them my entire professional career thus far. I didn't have a lot to show other than my potential at the time being a new face to mountain biking and they gave me a shot and became my first ever frame sponsor in mountain biking. I will for ever be grateful for their support and what they have given me and my career. Cheers to more to come!"
Kialani Hines is a talented and passionate mountain biker who has quickly made a name for herself in the sport. With her dedication, focus, and love for the outdoors, she has become an inspiration for fellow athletes and fans alike. Through her hard work and determination, Kialani continues to push herself to new heights, demonstrating what can be achieved through perseverance and a love for what you do. We are incredibly excited to see what the future holds Kialani! 
WHAT MAKES A PIVOT A PIVOT?
Latest Articles