Women on the Western Wildlands Route
Photos by Myke Hermsmeyer
The adventure may have started in grim weather
including fresh snowfall, but as the miles passed, the skies cleared, and the simplicity of the trip settled in. Early in 2020, with the rapid cancellation of racing the season's racing, Chloe Woodruff, Kait Boyle, Evelyn Dong, and Rose Grant decided to take on a starkly different kind of challenge – the 289 miles that make up Segment 3 of the Western Wildlands Route. The four set out on a bikepacking adventure that would leave a lasting mark and greater bond between them.
The effective "wiping clean," of the 2020 calendar impacted life beyond racing world
making it difficult to focus and stay motivated at home. "It was a tough spring to process what was happening," said 2020 Olympic hopeful Chloe, "I felt a tremendous sense of loss and sadness at times, and yet, also feelings of relief and opportunity." Being a bit of a frontierswoman, Rose tossed out the idea of a bikepacking trip. "The thought of bikepacking with a small group of close friends felt fitting and fulfilling; while also giving a fun adventure to look forward to," said Rose. For Chloe, it was the right kind of 'crazy' for the summer of 2020. Planning really started moving after she convinced Evelyn and Kait to join the adventure.
While Chloe, Evelyn, and Rose were venturing into a bit of unknown
Kait is an experienced veteran, the co-founder of the Western Wildlands Route, and program coordinator for Bikepacking Roots.
Several calls, emails, and gear orders later, the groundwork was set for a 4-day adventure that would take the quartet from Darby, Montana to Stanley, Idaho.
The meeting point was Rose's hometown of Darby, Montana. Greeted with unusually cold and rainy weather, some last-minute gear and setup changes were required. "The first day was spent making sure we had enough cold and wet-weather clothes and setting up our bikes," said Chloe. Kait looked over everyone's setup and was often heard saying "you don't need this, or that, or that."  However, whiskey, chocolate, and anything to keep warm and dry was deemed essential.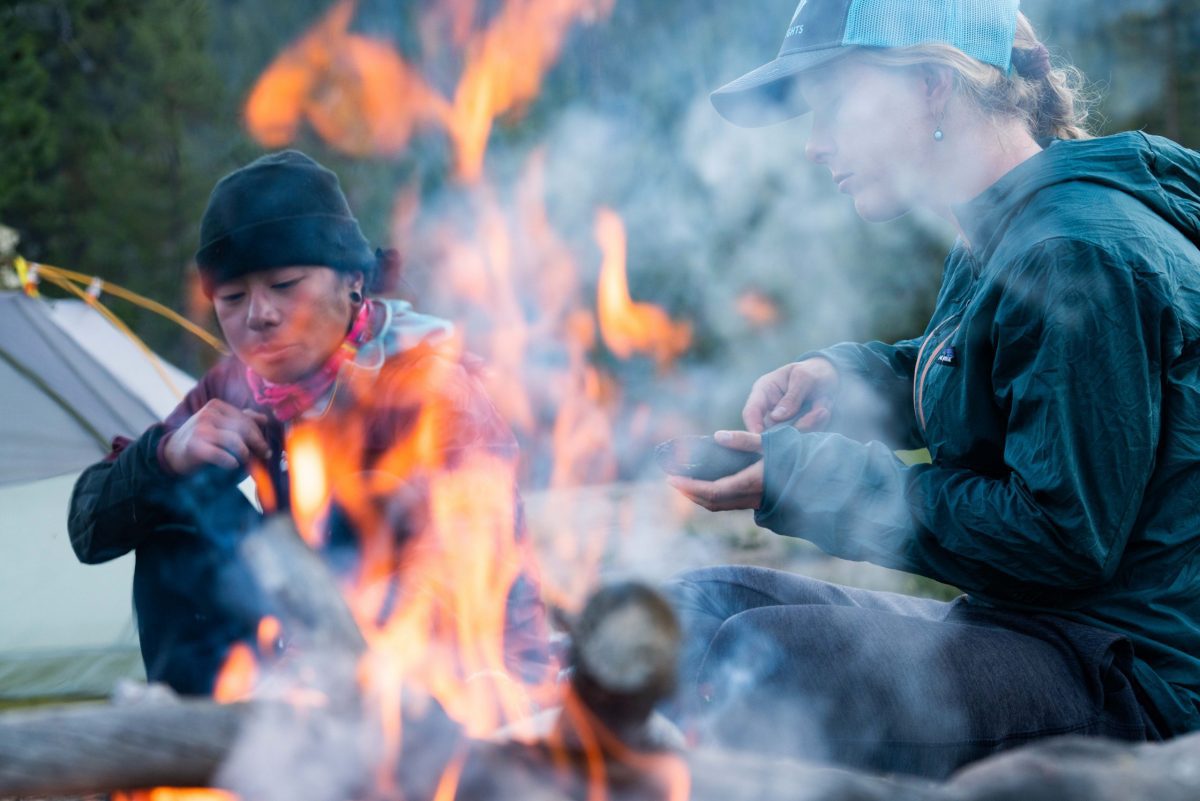 Once underway
there was nothing to worry about other than pedaling and chit-chatting; days and nights were filled with eating snacks, enjoying camp meals around the campfire, and long sleeps tucked inside sleeping bags.
For four women accustomed to standing on the top of the podium, there was joy in setting aside competition and riding simply for the purpose of moving across the beautiful landscape of Montana and Idaho.
The lighthearted mood
made traversing the route's several mountain passes tolerable and, dare say it, fun before returning to civilization along the banks of the Salmon River.
Within miles of their final destination in Stanley, dirty and smelly, the ladies book-ended their 4-day adventure with a dip in a roadside hot spring and take time to reflect on the impact this uniquely different trip had on each of them.
"The space that this trip provided for connection between the four of us girls was rich and grounding, and so good for the soul. I am so grateful for the friendship that I get to have with each of these women and am so excited to do this again!" – Rose
"When we started talking about this trip
I remember everyone immediately committing, without even having dates or a location figured out. We were just that ready for a different sort of adventure and excited to spend some time together. At the end, I felt restored from the trip and grateful for good friends." – Chloe
"Bikepacking has inspired my career as a mountain biker.
I co-created the Western Wildlands Route from the belief that bikepacking in wild landscapes inspires adventure, gratitude, and connection.
I had the opportunity to share the world of bikepacking with these three incredible women whose lives have been dedicated to mountain biking. To share a new way of moving on a bike and the adventure, connection and inspiration it offers was deeply fulfilling, and I left with three deeper connections and a great adventure amidst a pandemic." – Kait
"This trip was nothing less than a really good time
with two old friends and one new friend whom I'm really glad I got to meet. Learning from Kait was a huge part of the trip, from how to pack a bike to seeing how she keeps on keeping on through everything life throws at her. Oh yeah and riding with Rose and Chloe in a non-competitive scenario where they're not crushing me was nice too."
– Evelyn
WHAT MAKES A PIVOT A PIVOT?
Latest Articles