Whites of Their Eyes
with Pivot Factory Racing
It's said the eyes are the windows to your soul.
This window opens wide when Pivot Factory Racing athletes hit the race course, and through their own word we connected with the highlights and struggles of last season. Whether it's quirky pre-race rituals or what they're looking forward to, our athletes are rolling into the season with eyes wide open.
"I am most looking forward to Leogang World Champs and Andorra but it's a toss-up really… I can't wait!"
– Bernard Kerr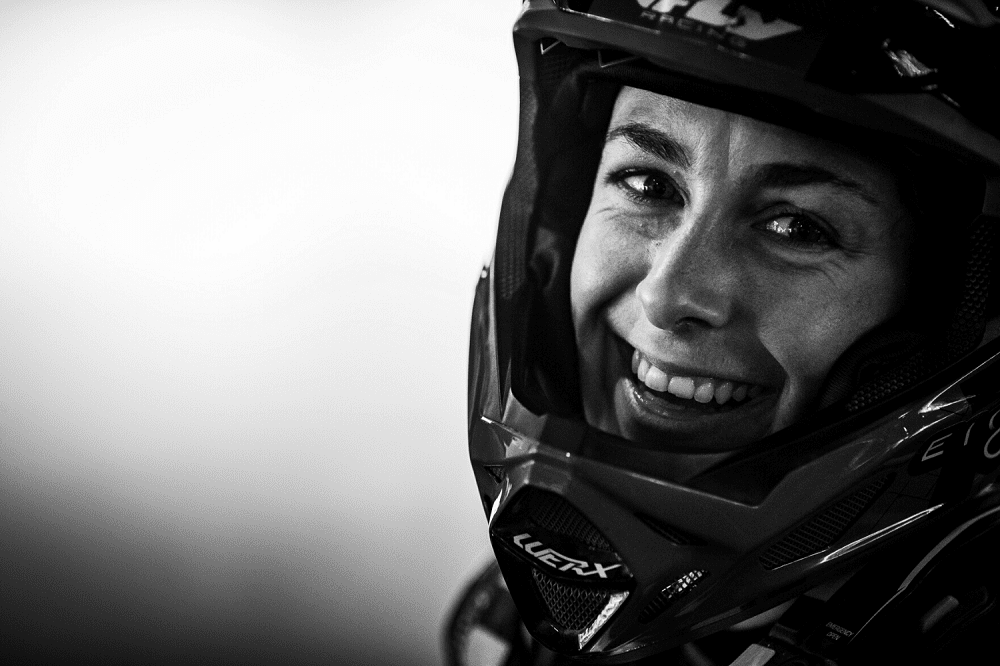 "Last season was probably the most complicated, conflicted year I had so far. I learned a lot about myself. It was painful, but mostly frustrating racing like that. Nobody could tell, but I was taped up for every race. I had to take pain killers, do a lot of rehab and the progress was slow. The damage in the shoulder was there but a surgery wouldn't necessarily help more, so I opted for the intense rehab option. Racing was every week a little bit easier, but in my mind, I knew I wasn't allowed to crash anymore so my riding was greatly affected by that. Only on the hardest tracks, or on tough weather conditions, where I didn't have to ride over my 95%, could I show a great performance like Andorra, Lenzerheide and MSA. My shoulder is now on the way back to full mobility, almost pain free, but one of the important ligaments (supraspinatus) is 80% ripped off, which isn't ideal. The physio team and I are working together through the whole winter to get the stability back where it needs to be, I'm finally making some progress on some of the movements I still couldn't do. If everything goes well, I should be back stronger and ready to tackle the 2020 season healthy."
– Emilie Siegenthaler
"I can't wait to get back to Chile. That was my favorite EWS I've ever done. It's high speed open and loose. The country and people are amazing and it's such a trip getting to race in front of them."
– Eddie Masters
"Les Orres France was my last season highlight! After not feeling great through most of the stages, I'd managed to put together a solid result. And to find Eddie was battling for the win, then pull it off by such a small margin… it was unreal!"
– Matt Walker
"Winning Les Orres was my season highlight last year for sure. Just the way the race came down to the last stage, a real make or break moment. I could visualize the whole stage as it was only 2mins long and just before I started, I said to myself whatever happens I'm going to go for it. To have it play out as it did in front of so many friends was something I'll never forget."
– Eddie Masters
"Crossing the finish at Redbull Hardline was unforgettable… I wanted that so bad and I made sure it happened."
– Bernard Kerr
"For downhill I have a routine: One minute to go, fist bump my mechanic, Kurt and he'll say, "smooth lines, roll the speed." Then I roll into the gate and fist bump the timing guy. At thirty seconds I do this nervous little dance with my hands, take a few deep breaths and I always wait till fifteen seconds to put my goggles on."
– Eddie Masters
"I do have a socks thing, but every year it is a different pair that is the lucky charm! Haha! And goggles – I usually wear the same lucky ones for race day."
– Emilie Siegenthaler
"The toughest part of being on course varies from race to race. Sometimes it can be dealing with the pressure or the weight of a good result, other times it can be fear and doubt, or when the wet weather rolls in it can be the unknown."
– Eddie Masters
"While Fort William was my best World Cup result last season, I still felt like I hadn't left it all on the hill. I was having a great run but towards the bottom I started to over think things and tightened up. I still came away with an amazing result and was stoked but felt I hadn't executed the run as per the game plan in my head."
– Eddie Masters
WHAT MAKES A PIVOT A PIVOT?
Latest Articles